Innovation. Passion. First.
Our philosophy.
Highest quality without compromise
The WIPOTEC Group is a leading global provider of intelligent weighing and inspection technology. Spurred on by our corporate philosophy "Innovation. Passion. First.", we develop and produce unique machine solutions and technologies for OEM and end customers from a wide range of industries at our headquarters in Kaiserslautern. As a sound, founder-managed company with 30 years' experience, we value enduring, long-term partnerships and always put the customer first. "First" as in top priority.
Our integrated solutions come from "a single source" and extend along the entire value creation chain from hardware and software development to in-house production with a level of vertical integration exceeding 85% and after-sales service.
"Designed, engineered and manufactured in Germany" is a mark of premium quality and customer benefit derived in high-performance applications.
Behind the Group's success are more than 1,200 employees who demonstrate their passion for technology to our customers on a daily basis.
Two global sales and service companies with over 100 branch offices and distribution partners operate under the umbrella of the WIPOTEC Group.
With a broad portfolio of checkweighers, X-ray machines, Track & Trace products and innovative systems for the mail & logistics industry, WIPOTEC-OCS serves our end user business in nine target industries worldwide.
WIPOTEC Weighing Technology is a global leader in the integration of EMFR weigh cells and kits and consequently provides our OEM customers with significant competitive advantages.

Weighing and Inspection Solutions
WIPOTEC-OCS
WIPOTEC-OCS implements intelligent weighing and inspection solutions for manufacturing industries in the food, non-food, chemical and pharmaceutical sectors.
It also focuses on creating productivity increases and revenue recovery applications for leading mail and logistics companies.
External links
WIPOTEC-OCS website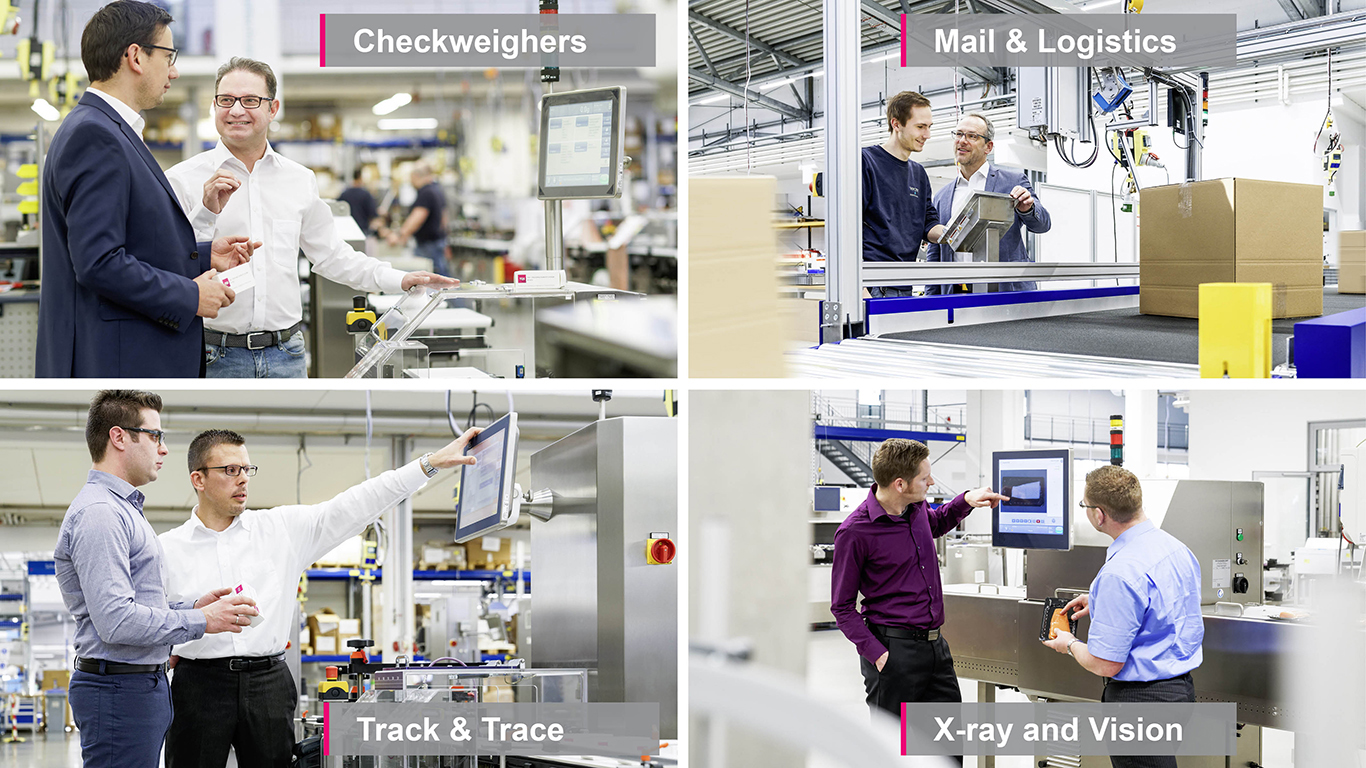 Weighing technology from a global leader.
WIPOTEC Weighing Technology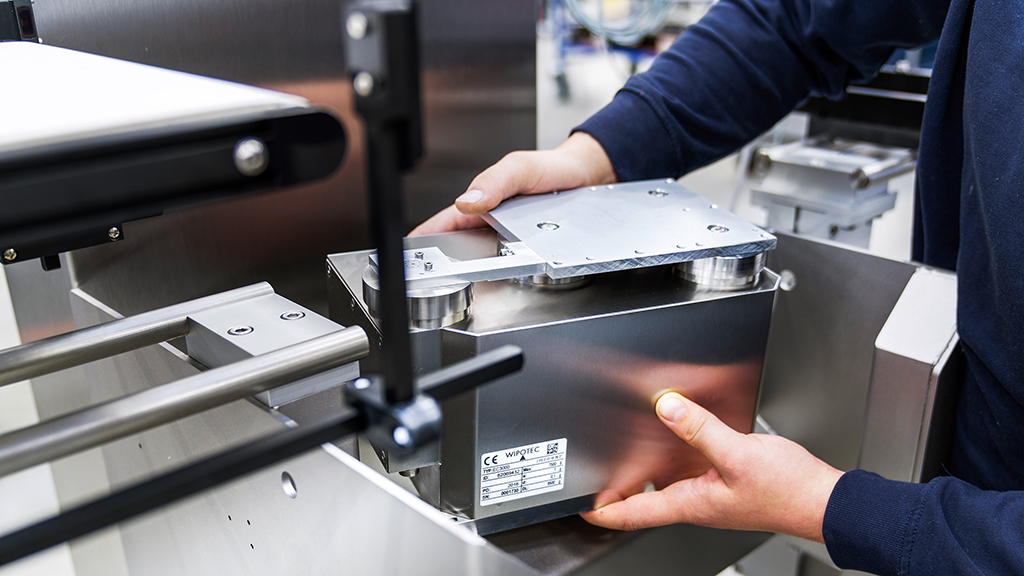 Leading global machine manufacturers and OEMs in packaging, filling and cutting technology from a wide range of industries rely on the ultra-fast precision weigh cells and kits of WIPOTEC Weighing Technology.
Our expertise is in machine construction and the integration of intelligent weighing systems for high-speed applications. We see ourselves as consultants and partners to our customers, helping them to achieve maximum line efficiency and productivity.
WIPOTEC Weighing Technology Website:
Science Alliance Kaiserslautern

"We are proud of WIPOTEC's membership in the Science Alliance Kaiserslautern – a flagship company, a global market leader and role model for sustainability."

— Prof. Dieter Rombach, CEO Science and Innovation Alliance Kaiserslautern e.V.
"There's no such thing as impossible."
The genius Albert Einstein once said that you can recognise a good idea by the fact that it appears to be impossible to implement from the outset. I took this almost philosophical statement and turned it for us into the simple maxim "There's no such thing as impossible". I wanted it to express our customer-oriented innovation and our infinite passion for creating new value-added solutions within the Wipotec Group.
— Theo Düppre, CEO and founder of WIPOTEC
Global headquarters of the WIPOTEC Group
In addition to traditional commercial functions, WIPOTEC pools basic research, hardware and software development, design, project management and production in a 30,000 m2 skills centre with unbeatable vertical integration. For our customers this guarantees quick-to-implement standard solutions and optimum fulfilment of even the most complex customised engineering solutions. Designed, engineered and manufactured in Germany.
Expert Service
With a global service network, WIPOTEC guarantees its customers fast and proficient handling of initial installation and maintenance, short-notice on-site assistance and rapid delivery of spare parts. As experts in your field, our experienced service technicians will assist you on site, on the telephone or via online remote services on the system itself, thus assuring you of an optimum production process in the fastest time possible. As part of our services, we also offer maintenance training for your operators and technicians on our operator-friendly machines. This will help you to get the best from your machinery and equipment pool at all times and ensure that you achieve the required range of products on a continuous basis.
The Key to the success.
Our history.
Udo Wagner, Theo Düppre and …

… Haigis Waagenbau set up Wipotec Wiege- und Positioniersysteme GmbH in Kaiserslautern. Leasing of the first business premises. Late 80s: Hanover trade fair. Presentation of the first monoblock weigh cell on Rhineland-Palatinate's shared stand. Industry pricks up its ears. Initial orders for electronics of scales and weigh cells follow.

Relocation to the …

… industrial estate in a new 1,200 m2 building. The company now employs a staff of 30. Performance of development contracts and weigh cell production for business associates.

Cooperation with machine manufacturers …

… on the production of modules and software for scales. Start of series production for company's own checkweighers.

Setting up …

… of a sales subsidiary in Schwäbisch Hall with a partner. The US Postal Service orders the first catchweighers developed and produced at WIPOTEC. Construction of a dedicated machining department.

Sales and Service office in the USA

Setting up of a sales and service office in the USA. Entry into the pharmaceuticals industry with checkweighers. The number of employees doubles to 100 within the next two years.

Expansion of the product range …

… by adding dual-lane scales and integration of metal detection. The sales subsidiary set up in Schwäbisch Hall in 1996 becomes a wholly-owned subsidiary of WIPOTEC.

Delivery of the 1,000th checkweigher

The UK office is set up. Expansion as a result of new building and new building phases. At year end WIPOTEC employs more than 100 employees.

Expansion of production areas in Kaiserslautern

Introduction of a 10-lane checkweigher.The sales subsidiary in Schwäbisch Hall now operates as OCS Checkweighers GmbH.

Expansion

The branch office in Italy (Pero) is opened.

Record

For the first time ever Wipotec produces more than 2,500 weigh cells a year.

Construction and move …

… into further new company buildings on the site. The branch office in Atlanta, USA, is opened. The world's fastest MID-approved letter scales are built in Kaiserslautern. Expansion of inspection technology by adding X-ray inspection.

Sales exceed …

… the 50 million euro mark. The Spanish branch office is opened in Barcelona. Introduction of X-ray scanners, combined with checkweighers (Weigh & Ray combined solutions).

25th anniversary

WIPOTEC celebrates its 25th anniversary, the number of employees has grown to more than 350. Further expansion of the operational and production area. 18,000 sqm of underfloor heating operated with geothermal heat from a geothermal energy plant.

China sales office opening

Import, sales and service of products in the field of Weighing &amp Inspection Solutions also in Asia.

90% vertical integration

Vertical integration at the central production site in Kaiserslautern reaches almost 90% as a result of the "Everything from a single source" principle. As a rapidly growing global 'hidden champion', Wipotec now supplies customers all over the world with weighing and inspection solutions in more than eight target industries, with a growing focus on the market for drug safety (Track & Trace).

New global brand architecture

Some 500 people now work for WIPOTEC in Kaiserslautern, bringing the number to more than 700 worldwide. At the beginning of the year, the corporate group adopts a new brand architecture which focuses on the core brand WIPOTEC. In May, the sales and service organisations, WIPOTEC Weighing Technology and WIPOTEC-OCS, appear under a joint umbrella at Interpack in Düsseldorf to face the largest trade fair in their history.

30 TH ANNIVERSARY

From Kaiserslautern University spin-off to market leader in 30 years. After its foundation in 1988, WIPOTEC established itself as a global manufacturer for industrial weighing and inspection solutions. Today, more than 1000 WIPOTEC employees develop and produce world famous weighing systems at one of Rhineland Palatinate's most important industrial locations.

Open House

More than 6,000 visitors get a look behind the scenes. Many attractions, product demonstrations, music and great entertainment for children made for an unforgettable experience.

Wipotec Show Truck...

... as a replacement for canceled trade fairs due to Covid-19. The subsidiary in Singapore is founded. Opening of the Wipotec-Academy.