Implementation of UDI Requirements with Modular and Flexible Technology
Given the multi-million dollar revenue losses due to counterfeiting and product diversion yearly, implementation of the UDI requirements on an international level is a much-needed move to mitigate fraud-related risks and improve data flow and transparency between all relevant stakeholders across borders.
Despite the short-term challenges faced by device manufacturers, such as considerable compliance costs and organizational complexity, the Unique Device Identification system and medical device traceability will potentially bring in long-term gains due to mitigation of counterfeiting, prevention of parallel imports and enhanced data control and transparency.
On this page you will find information about the following topics:
White Paper: Future-Proof Compliance: A Global Perspective on Unique Device Identification
Quick access to product information, improved recall management, enhanced protection against counterfeiting and grey markets – Unique Device Identification (UDI) of medical devices is expected to revolutionize the medical device industry. At the same time, it poses multiple questions and creates various concerns for product manufacturers and labelling companies. It is important not to lose sight of the global perspective, which involves keeping all UDI-related developments and changes in mind.
Find out about UDI implementation challenges and success factors from a global perspective in this white paper. The document offers a global overview of the latest developments in the international arena for product manufacturers and labelling companies. As such, it is a valuable source of information for international product manufacturers and labelling companies.
The fundamentals of the EU Unique Device Identification system
Aiming to adhere to UDI requirements and their enforcement dates, medical device companies go through the implementation phase, which involves updating packaging lines with new technology and integrating additional IT solutions. Following the EU MDR and IVDR, medical device manufacturers will be fully responsible for performing the following steps:
Assigning UDIs to individual products
With very few exceptions, any medical device placed on the market shall be assigned a Unique Device Identifier that consists of the following data:
a Device Identifier (UDI-DI) with fixed information about the manufacturer and the device;
a Production Identifier (UDI-PI) with variable production data, such as a serial number or a lot number, date of manufacture and expiry date.
However, UDI requirements do not obligate manufacturers to generate UDI-DI data, as they will receive it from one of the authorized issuing agencies - GS1, HIBCC, ICCBBA or IFA – which they can choose freely.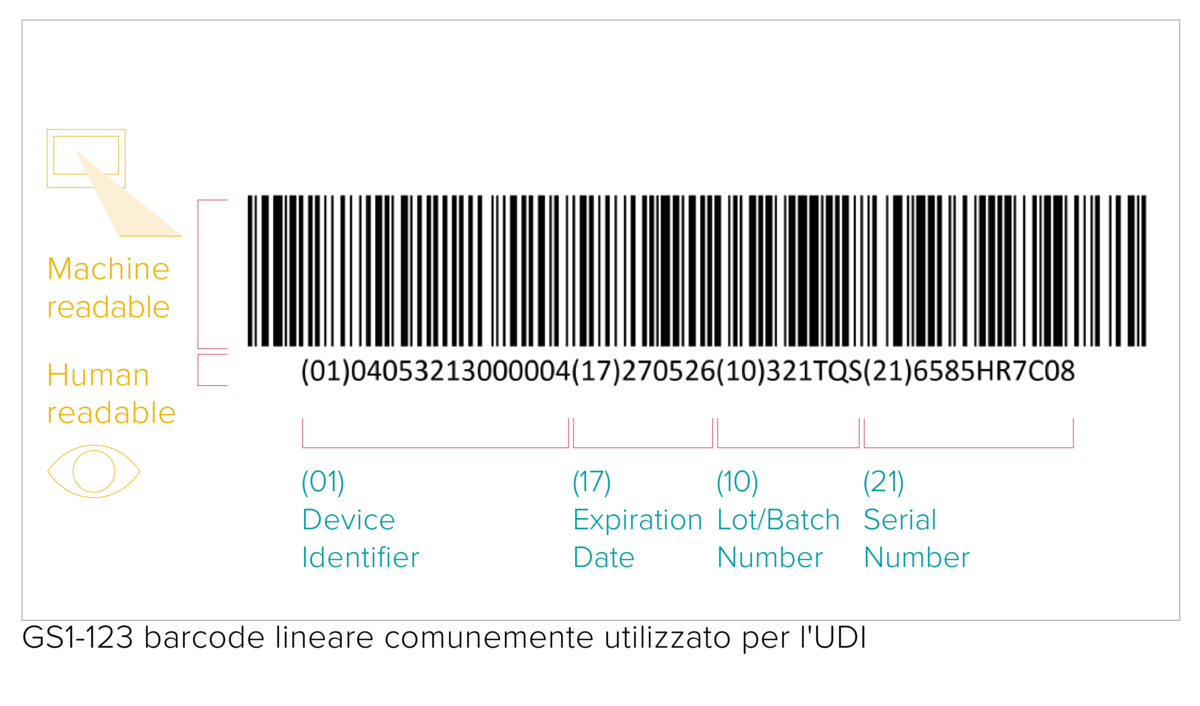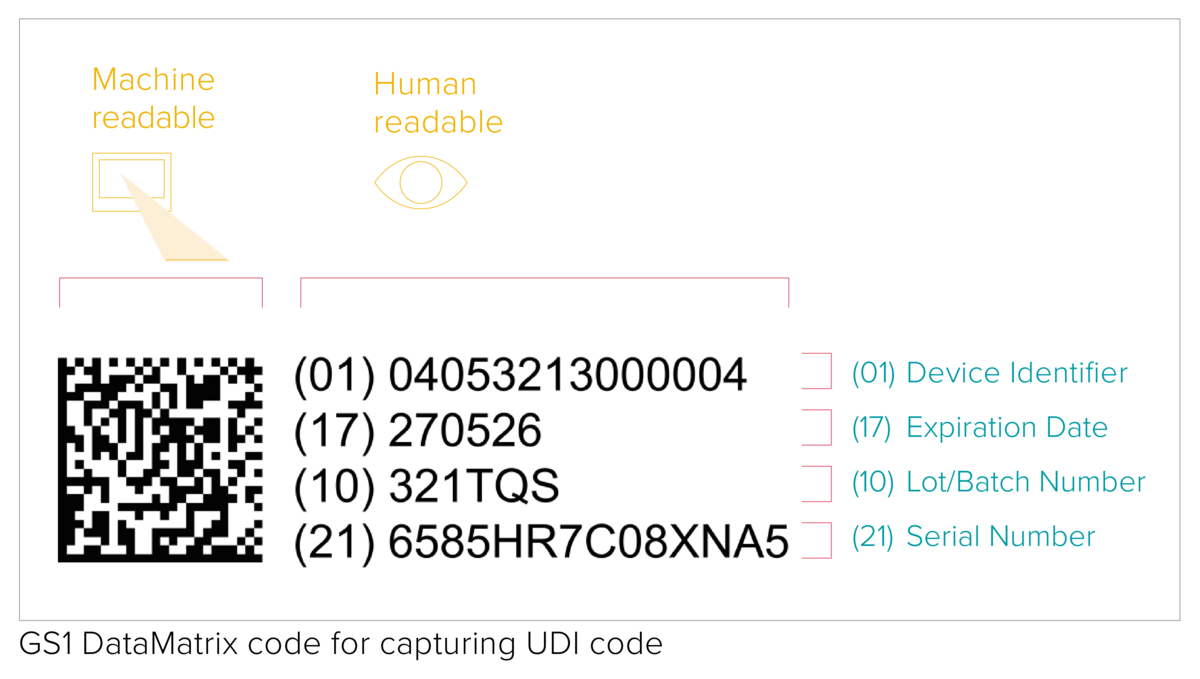 Placing the UDI code on a product and its packaging
The UDI code represents a machine-readable (AIDC) and human-readable (HRI) code. The AIDC stands for Automated Identification for Data Capture and can be a linear barcode or a DataMatrix etc. As specified by the UDI requirements, the UDI code shall be marked directly on the device in the case of reusable products, or placed on its label and all higher packaging levels.
Barcode print quality depends on a number of different factors related to the quality and storage conditions of the packaging materials. Although there are no specific UDI barcode verification requirements, GS1 requests adherence to ISO/IEC verification standards to ensure barcode readability by all supply chain stakeholders.
Registering and updating UDI data in EUDAMED
EUDAMED, an updated interoperable European database for collecting, renewing and exchanging medical device information, will serve as an access point for regulatory bodies, economic operators, health care providers and the public. .
Adhering to the UDI compliance timeline
The UDI implementation deadlines differ based on the classification of medical and in-vitro diagnostics devices into three different categories corresponding to their risk levels. Additionally, the timeframe depends on whether the manufacturer places the UDI code on the device itself or its label.
Would you like to find out more about UDI requirements for medical device manufacturers?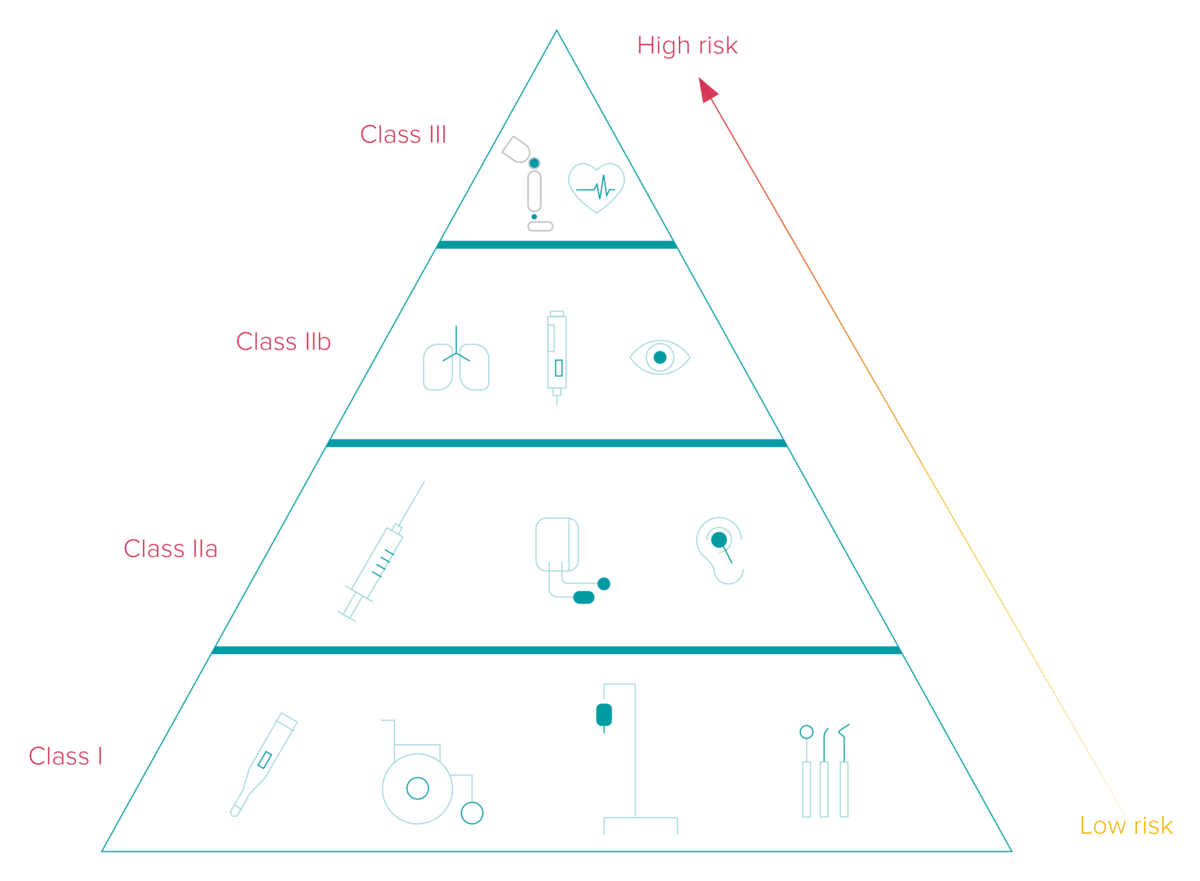 UDI Requirements from the global perspective
To enable medical device traceability and prevent product diversion and counterfeiting, the US was the first country to introduce a global UDI system for medical devices distributed in its market.
The FDA UDI requirements are, for the most part, based on the guidance of the International Medical Device Regulators Forum (IMDRF) with a centralized national database, GUDID, serving as a public reference catalogue for products coded with UDI.
The importance of unique device identification has been likewise recognized in numerous countries in the emerging markets, including China, India, Brazil, South Korea, Saudi Arabia and Taiwan, to name just a few. This global development has a direct impact on how international manufacturers mark their products and manage UDI data flows across different geographies.
Despite the IMDRF's efforts to help standardize UDI requirements globally, they differ from country to country in a number of ways. These differences can include the following aspects:
Accepted types of UDI carrier formats
Marking and placement of the UDI code on the product and its packaging
UDI-DI and UDI-PI data requirements
Enforcement deadlines for different product groups
Events that trigger a UDI data update
Product groups subject to UDI requirements in different countries
These aspects have a significant impact on the choice of a UDI compliance solution that, given the evolving global regulations, has to be highly adaptable, future-proof and agile.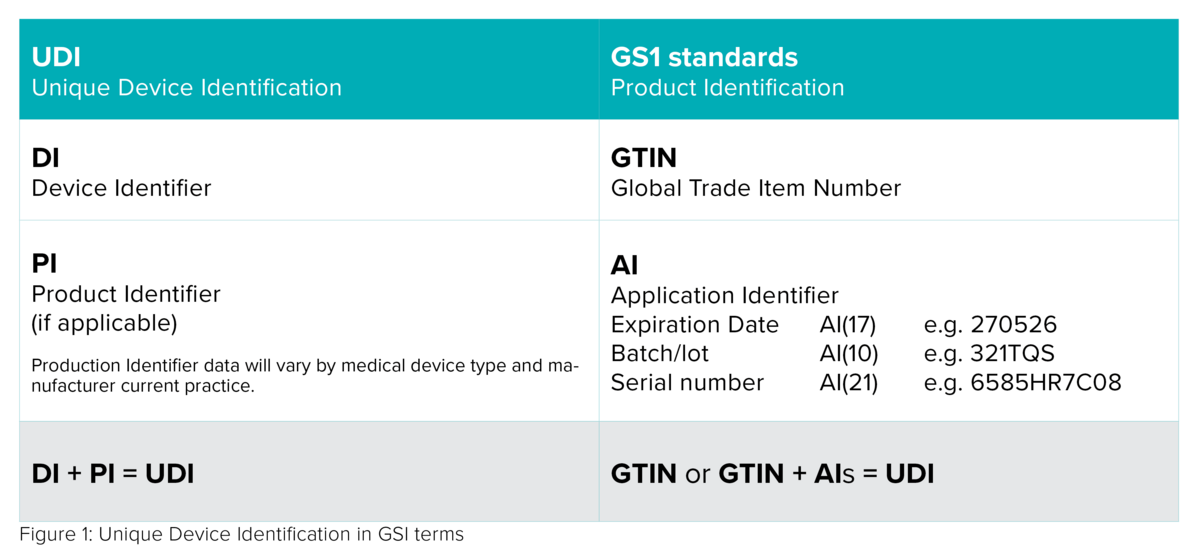 Serialisation of Medical Devices
While fundamental to any efficient medical device traceability system, serialisation is also a UDI requirement for active implantable devices, e.g. pacemakers, defibrillators, implantable glucose monitors. Serialisation refers to assigning a unique serial number to each finished product so that it can be automatically identified at the point of sale.
The pharmaceutical industry is already deploying serialisation as an anti-counterfeit measure on the global level, and this technology is gaining momentum in other sectors as well. Even companies whose products do not fall under the category of active implantable devices will benefit from equipping their lines with flexible technology that enables both UDI compliance and serialisation.
This approach will help them keep their production lines future-ready in case serialisation becomes an imperative UDI requirement for more product groups, or is mandated in certain importing countries.
Aggregation of Medical Devices
Although not mandated by UDI requirements, aggregation of medical devices is another pillar of optimal medical device traceability. Aggregation refers to creating a parent-child hierarchy between different levels of product packaging, starting from a product unit up to a pallet. For example, to aggregate several product units into a shipping case, the following steps are undertaken:
A UDI barcode for each product is scanned;
The barcode data is aggregated and linked to the shipping case;
The shipping case receives its label with a UDI barcode including a unique serial number.
This process can be repeated for all packaging levels. When scanning a code, the operator receives all UDI information related to the medical devices contained in the shipping case.

Benefits of Aggregation During Product Recalls
Product aggregation does not only enhance medical device traceability, it can also optimize product recall, correction or removal processes. If a product recall or withdrawal is unavoidable, manufacturers are bound to take the entire product lot or batch out of circulation in all locations.
Since aggregation of medical devices creates child-parent hierarchies between packaging levels, it allows for more targeted and even unit-based product withdrawals. This means that products can be recalled or removed based on serial numbers instead of lot or batch numbers. This new option leads to a much faster and more targeted product recall or withdrawal process.
Do you have questions regarding medical device aggregation?
UDI Technology for Medical Device Traceability
TQS solutions from Wipotec effectively enable UDI compliance and provide additional value through a set of multiple additional options. Depending on various aspects of the production and packaging process, manufacturers can opt for stand-alone machines or OEM kits. Both solutions can reliably perform:
UDI-compliant labelling or coding on multiple levels of packaging. Whether stand-alone or OEM, TQS equipment can place unique device identifiers on product labels and packaging materials. It is also possible to print UDIs on flat boxes off-line, prior to packaging the devices.
UDI barcode verification and grading. The TQS system reliably identifies and rejects products with low-quality barcodes to ensure that only readable barcodes pass the quality check. In addition, the equipment performs quality grading of each printed barcode consistent with the UDI barcode verification requirements of GS1. Barcode quality and grading data is sound proof that the printed barcodes correspond to ISO/IEC quality standards at the point of manufacture.
Medical device serialisation and aggregation. TQS solutions are multifunctional modular machines that enable reliable medical device traceability. In addition to seamless interoperability, the machines can autonomously generate and assign serial numbers to products and transfer data to the site system.
Tamper evident sealing is performed after verification of code quality. This is an optional module that is available in both OEM and stand-alone solutions. While not a UDI requirement, tamper-evident labels ensure the integrity of product packaging.
Open interfaces and interoperability. Thanks to open communication interfaces, TQS equipment can exchange UDI data with any site-level system.
In-line checkweighing is an optional component that enables ultra-precise weight inspection of finished products. Its highly-accurate weight results indicate whether the finished packaging contains everything that it's supposed to. Products with an incorrect weight are rejected. Target weight deviation often signifies a missing component, for example, a leaflet.
Stand Alone Machines and OEM Kits
Stand-alone machines from Wipotec are compact, customizable and plug and play solutions for UDI compliant coding, medical device serialisation and aggregation that can be quickly integrated into packaging lines. The portfolio also includes off-line solutions for printing UDI codes before packaging.
TQS OEM kits consist of multiple components, such as printers, cameras and labellers. Both modular and flexible, an OEM solution can be configured based on customer-specific requirements. OEM equipment is installed into a third-party machine, which makes it a preferred option in factories with less space. As a fully automated solution, TQS OEM can perform at very high production speeds.
UDI compliance and beyond: leverage advantages of leading-edge solutions
TQS technology for UDI compliance is not only intuitive and easy to operate, but it also maintains the overall productivity of the packaging lines and offers valuable smart features that add efficiency while helping manufacturers comply with UDI requirements.
TQS Smart Features:
Central line management relieves the machine operator, as they won't have to set up each machine or its components separately. All relevant settings are configured centrally in the line manager software.
ConfigureFast feature allows fast and intuitive configuration and operation of coding and inspection components through only one user interface.
Open XML-interfaces ensure compatibility with over 80 site-level systems (L3 + L4) for data management and transfer.
TQS Traceability+ feature allows the collection of additional data, such as code grading value and product weight, to be used in multiple ways to reproduce the production quality.
Secure remote service via a firewall-based VPN connection enables quick remote service, reducing machine downtime and service costs.
Layout Software Interface is one of the newest features. It enables the creation of layouts directly from a desktop computer via any external layout management software on the market.
Use the expert know-how of Wipotec
As a leading international supplier of reliable coding, serialisation and aggregation solutions, Wipotec supports medical device manufacturers on their path to compliance with UDI requirements. The company's technological expertise has been demonstrated in more than 2000 successful Track and Trace projects. As a GS1 partner, Wipotec follows global regulatory developments and provides multiple features that enable compliance with current and future global regulations.
Do UDI requirements affect your manufacturing and you need support?