Comscale4 – Product optimization through effective data transmission
A main factor in increasing production efficiency is a regular and exact analysis of all available production data. This is especially true in large factories and multi-site operations that are dependent on a flexible, web-based quality data management system like Comscale4, the system provided by Wipotec.
The user-friendly software components from Wipotec, customised for your needs, connect any number of checkweighers and other inspection machines (x-ray scanner, metal detectors) to separate selectable sites. At any time, you can retrieve all available data, generate statistics, take important actions, and share data with partners throughout the enterprise. Comscale4 provides the ideal overview of your entire production in real time. Your quality assurance starts here!
Discover our solutions and goal-oriented information about our products!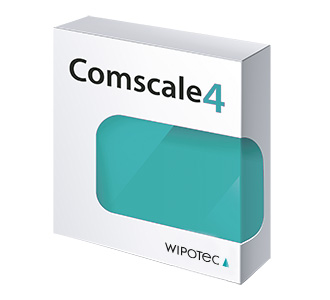 Comscale4 – Data Management for Inspection Systems
If you want to optimise production processes, you'll need in-depth insights into subprocesses and their results. Inspection machines integrated into production lines will provide the data required. Wipotec's Comscale4 management system collects and links this information in real time. As a result, it's easier to assess the efficiency and quality of production processes.
The use of inspection solutions, which include checkweighers and X-ray inspection systems, for example, means that 100 % of all products are inspected during production or at the end of production at the latest. What used to be done manually in quality assurance in the form of random checks is now done by inspection systems.
This means that the quality data of every individual product is available for analyses and, if necessary, optimisation purposes. Wipotec's Comscale4 ensures that this data is recorded at the point of origin and in real time across all sites and stored centrally.
Comscale4 – Basic functions
Safety
Loss-free data transfer in real time
Transparency
Full data view from any site for all integrated machines and lines
Control
Operate/parameter changes via PC and mobile phones
Review
Data analysis, storage, and graphical evaluation for further higher-level use
Flexibility
Integration of various inspection devices
(checkweighers, metal detectors, x-ray scanners, etc.)
| | |
| --- | --- |
| Production | Central production records and data collection, prepackage regulations documentation and online monitoring all linked to the production lines |
| QA | Targeted analysis of QA features, random attribute and calibration check |
| Administration | Tracking metrics and documentation of operating performance |
| Management | Decisions of the highest priority |
Comscale4 – Quality data management for the entire company
Big Data: Why producers must address this issue
Capture quality-assuring production data in real time and adapt it across locations.
The near (digitalised) future challenges manufacturers to get to grips with basic innovations and the issue of real-time quality control if they are to remain competitive. Virtual images of the goods produced and networking of the production modules are just two of the areas that supply large volumes of data.
This white paper provides you with everything you need to know about real-time data acquisition in relation to manufacturing You can also read how important production data acquired in real time is for quality assurance, how it is even possible to adjust QA parameters across all lines and sites and what archiving individual weights can do for you in terms of big data.
Random checks are history. Inspection systems today represent 100 % individual product checking.
Quality of products and production processes

One of the main tasks of inspection systems is to check the quality features of products. Inspection systems from Wipotec are capable of inspecting several packaging and product attributes with a single machine system and in a single pass. Multi-sensor technology means here that visual inspections are used in addition to X-ray technology and weighing systems.

Depending on the inspection machine's complexity, once a product has passed through such an inspection system, it has undergone various checks, verifications or analyses. This data, which is summarised and processed in Comscale4 represents not only the final product quality; in its entirety, it provides an in-depth insight into the quality and efficiency of preceding production processes. The data relates not only to the product itself, but frequently to its condition and composition, its weight, shape and packaging.

Using inspection systems properly – with Comscale4

Regardless of the number of inspection systems used, central data management such as Wipotec's Comscale4 always provides added value for the customer whenever checkweighers or X-ray inspection systems are used.

With the inspection data obtained, it is often possible to find production parameters that allow optimum production without the need for time-consuming on-site checks on production lines. Comscale4 for inspection systems – designed by Wipotec for optimised and effective production.

Data within the production cycle

The customer determines which data is to be collected in Comscale4 and recorded beforehand by inspection systems. In addition to weight determination and the completeness check, this may include label checks, foreign body detection or seal-tightness inspections.

Checkweighers, X-ray inspection and metal detection systems provide the data within the production cycle. The inspection data is recorded and displayed in real time.

Online monitoring for production lines

Thus online monitoring is possible for individual production lines. The data management system allows each individual inspection machine to be viewed across all sites.

Checkweighers provide end-to-end documentation of prepackages and this can be retrieved in Comscale4 at any time. It is also possible to store the X-ray images of X-ray scanners.

Optimising production processes

Inspection systems are perfectly suited to optimise upstream production processes. In this case, Comscale4 can display line- or machine-related statistics in real time or merge and evaluate them on a product-related basis. The Comscale4 data management system additionally offers online monitoring with alarm level management for all production deviations which can be detected by checkweighers or X-ray inspection systems. Configurable reports on production figures, waste, machine utilisation and other quality criteria assist in production optimisation.

The user has access to all data available in Comscale4 from any browser-enabled terminal, including tablets and smartphones. It is possible to create and view a wide range of statistics and analyses. The management system can also be used to provide key figures on plant availability and machine efficiency of production lines by evaluating their operating lives.
Hello! How can we help you?