Not Standard Practice:


We Serve All Global Markets With the Same High Quality Weigh Cell Portfolio
Interview with Michael Kirsch, Director Global Sales Weighing Technology
on the topic of long-term success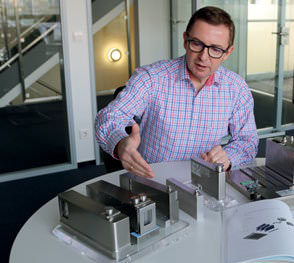 Mr. Kirsch, what are the success factors for your
market leadership?
We are a high-tech company and develop weighing systems , for and with our global customers. The superiority and performance of these weighing systems centers on the WIPOTEC Weigh Cell. It is based on the EMFR (Electro-Magnetic Force Restoration) principle. One of the advantages of the WIPOTEC EMFR Weigh Cell is its very short settling time and sampling rate of one millisecond. It delivers highly precise weight results extremely quickly and reliably. It can be integrated into the systems of our machine-manufacturing customers in a simple, space and cost saving manner. As a result, inline processes influenced by weighing technology can be controlled and optimized even in high-speed lines. Other advantages lie in product features such as robust mechanical design, reliable overload protection of the Weigh Cell and an additional flexible dead load range for customer structures that altogether generate a enormously high customer benefit.
Another point is our unique AVC (Active Vibration Compensation) technology which uses intelligent algorithms to guarantee precise weighing results even in environments with high levels of vibration, e.g. by forklifts or machine cycles, without any compromise on overall performance.
In addition to the product itself, I see our sales approach, which is geared towards long-term partnerships, as a second success factor. Customers generally see us as a as a consulting partner and we also invest a lot internally to meet their demands. In the more than 25 years that we have been in the market, we have gained a great deal of know-how regarding the best integration of weighing technology through successfully implemented global projects with leading machine manufacturers and timely recognition of trends. The speed and quality of our expert service, which is always at the side of our partners, is also absolutely worth mentioning.
Our market knowledge has also been incorporated into the broad WIPOTEC Weigh Cell and Weighing Kit portfolio. These, as our customers confirm, cover relevant industry or product-specific applications. The wide range of models and types, supplemented by a large number of interfaces and support for all common fieldbus systems, enables fast and efficient integration. For any requirements that cannot be covered by existing types, we are the machine manufacturer's best engineering partner in finding the optimum customer-specific application.
What is the significance of WIPOTEC's
"Everything from a single source"

principle with regard to the best integration solution for your customers?
WIPOTEC customers benefit from a vertical level of integration of almost 90%, which is not customary in this industry. Primarily, this enables us to provide market-leading quality and reliability. From basic research to design, the entire production of the Weigh Cells from the monoblock to the finished product, all of this is implemented within the value-added chain at the main plant in Kaiserslautern.
Customer-specific requirements are worked out in close dialogue with our customers drawing on the knowledge of experts, from areas such as mechanical design, engineering, project management and software development. This enables us to rule out possible sources of errors in advance and to integrate the WIPOTEC weighing systems smoothly and flexibly.
Which customers benefit

from your OEM solutions and which market trends do you take into account?
We are proud of our partnerships with almost all well-known machine manufacturers and of course we also work with smaller specialized companies that integrate our OEM systems into their machines or lines. The industry focus is on the food and pharmaceutical sector, although we are also growing in many other industries, such as the cosmetics market, as the positive reputation of our solutions has reached this point.
The establishment of the branches next to our headquarters in Kaiserslautern was based on market criteria. For example, we went to Italy at a very early stage in order to develop customer potential in Europe's second largest mechanical engineering market, which has since matured into strategic partnerships. Our locations in Germany and Italy thus cover the entire European market.
With our US presence in Atlanta, we have established a sales and service center serving the North American market. Due to the increased demand for high-performance weighing solutions in Asia, we are intensifying our commitment through strategic partnerships in China and India.
We currently see the greatest market dynamics in the pharmaceutical sector. There are two major topics of interest for us here: the outsourcing of production capacities to CMO's and the trend towards increasingly smaller packaging sizes and filling quantities. The latter is, of course, also a defining issue in the food sector, if only because of demographic changes on the consumer side.
As far as contract packers or contract fillers are concerned, the pressure on margins and rapidly changing product orders call for flexible and efficient processes. This naturally also has implications for the role of the machine builder and consequently for the OEM weighing technology. We are well positioned here thanks to the advantages of our integration approach, as already described.
We are also ideally positioned in terms of maximum flexibility thanks to the new MMS (Modular Multi-track System) which prevails with an intelligent, modular and open design. It is in line with customer requirements, has AVC (Active Vibration Compensation) and impresses with the highest flexibility in integration and possible future changes in the number of lanes.