X-ray Detection of Foreign Materials: The end of two big myths
The X-ray inspection of food has become more and more popular worldwide. It is widely known, that the machines are able to find more than "just" metal". Typically, end users and suppliers speak about glass, ceramics and sometimes also dense plastic. Besides looking for foreign bodies, there are more quality checks available with an X-ray system: For example in yoghurt cups or ketchup bottles, X-ray systems are able to check the fill level. In other food segments, pizzas are checked if they are perfectly round, pralines are counted in the tray and even cheese can be classified according to the ripeness.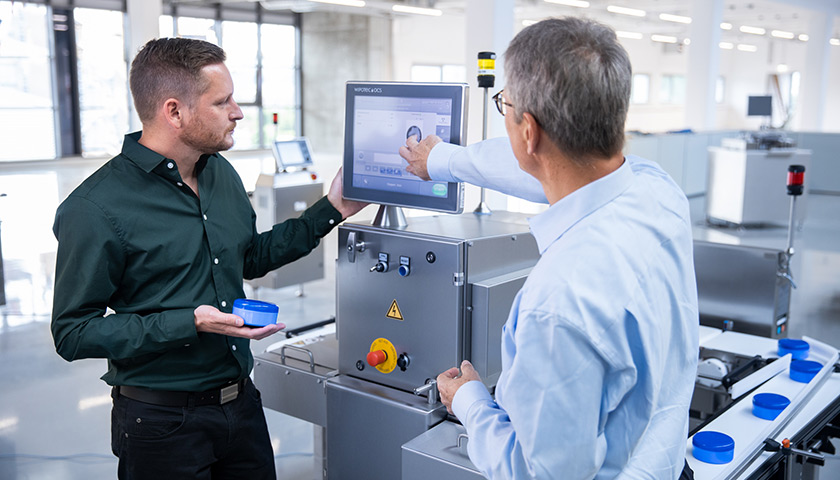 Myth 1: The higher the density, the higher the detectability
It is widely understood that X-ray relies on the density of a foreign body which determines if it is detected by the system or not. This knowledge is not completely wrong, but also not completely correct. It is more of a rule of thumb. The reality is that the material characteristic that describes the absorption of radiation (and therefore the detectability), depends on the atomic number.
For the detection of glass, the knowledge of the real background is very important. Glass is not a strictly defined material composition like Stainless Steel 316. Typical glass, which is used for packaging like bottles or jars constitute the highest risk for contamination. "Soda-Lime Glass" consists mainly of Silicon Dioxide – but there is a strong variation concerning the percentage. At the same time, today's glass is mostly recycled glass. This leads to a lot of variation due to different ingredients, additives and contaminants. They can increase the absorption of the glass dramatically. Silicon alone has an atomic number of 14, similar to Aluminium (13), which leads to similar absorption. If the glass is e.g. contaminated with a little bit lead (atomic number 82) it will have a much higher absorption – even the density might be very similar.
This effect becomes also more important when it comes to comparison tests between different X-ray systems. It is not advisable to compare the detections results of different machines for glass, when different test spheres are used because there is a big chance, that in reality, it is not a machine comparison, but more of a comparison of the absorption of the test spheres.
Nevertheless, speaking about density for day to day applications is not completely wrong: If a foreign object occurs in the factory, quality assurance can perform quick tests, if it is worth to investigate more deeply the detectability. If the contamination floats in the water, it is not necessary to perform further testing, as – under usual circumstances – a single energy X-ray system will not be able to find it. If it does not float, it is worth to have a discussion with X-ray experts, who might have local test facilities for further investigation.
Myth 2: X-ray inspection needs a lot of space – even for small products
X-ray inspection units need additional space in the factory. In the food industry, space is always an issue, especially for integration of new equipment into existing production lines. One approach is to fully integrate a special X-ray unit into a thermoforming and filling machine (FFS), e.g. for yoghurt cups. Another approach are combined units: There are always specified space requirements for radiation protection, so this space can be used to fulfil other inspection tasks.
The widely used X-ray system SC-W is an example of a fully integrated solution of check weighing and X-ray with very low space consumption. Besides this, the "All-In-One" system, which has additionally vision inspection. If these systems are fully integrated, there are several additional benefits: For example, the product changeover is much faster, there is one common statistics and there is less training effort.
For very small products, Wipotec developed the SC-2000 "Mini" X-ray scanner. It is designed for small products, like soup pouches, cereal bars, chocolate or small trays. Depending on the application, it only requires 500 mm line space. If a reject is required, machines with 700 mm line space are possible. Additionally, the width of the machine is very small.
The modular design enables individual solutions for each application. Nevertheless, the SC-2000 can work with an inspection speed of 90 m/min, high X-ray power (and therefore detection) and the same powerful software like all the big Wipotec machines.