Traceability and Product Inspection of Baby Food: Assuring Safety, Quality and Transparency
Global growth of cities and the rising number of women joining the workforce facilitate a convenience-oriented lifestyle, which leads to increased spending by parents on instant infant formulas and baby food. This development is one of the critical drivers for the steady growth of the global baby nutrition market 1 :
The baby food segment is forecasted to grow yearly by 5.61 % (CAGR 2021-2025).
Revenue in the Baby Food segment amounts to US-Dollar 223,032m in 2021.
The average per capita consumption stands at 3.9kg in 2021.
Although the demand for baby food is rising, food quality and integrity concerns among young parents play a significant role in product choices. For this reason, manufacturers strive to satisfy consumer expectations and increase loyalty by enhancing baby food quality control and implementing product traceability to secure the supply chain and mitigate tampering risks.

1 www.statista.com/outlook/40120000/100/baby-food/worldwide
Webcast: How to ensure the quality and safety of baby food
Baby food integrity – transparency, safety and quality assurance
This webcast presents a variety of our solutions that, when combined together, provide an unbeatable system to the problem of baby food safety. As a manufacturer, your brand is defined by the quality of your products and there is no margin for error.
The benefits of watching our webcast recording:
The precise amount of food in the container (no over- or underfilling)
Handling compliance issues
Increasing buyer confidence in the product
Traceable contamination detection for every single package
Prevention of food fraud, counterfeiting or the mislabeling of baby food containers.
Watch now our webcast recording
E-Paper: Maximum safety in the production of baby food
Reliable inspection of all types of packaging
The quality of food products, especially baby food, is becoming increasingly important. In this e-paper, you will learn how inspection solutions can increase both the safety and efficiency of your production. Checkweighers, X-ray scanners and track & trace systems play an important role in this. The shapes of the products and packaging are crucial; therefore, the most popular ones are focused on: bags in cartons, cups, cans, and jars. Depending on the type, specific applications arise, such as foreign object detection, serialization, or weight control for quality assurance of your goods.
Serialisation of Baby Food: Strengthening Consumer Loyalty
Food safety risks are among the major drivers for the development and implementation of traceability solutions in the baby nutrition industry. Past incidents of food fraud in China that resulted in malnutrition cases and even deaths of several babies have enormously damaged young parents' trust and confidence in food brands worldwide. Additionally, the recent recall of baby food jars in the UK due to tampering concerns has raised consumer awareness of food safety issues and supply chain loopholes 2.

Key Factors Driving Serialisation of Baby Food:
Protection of food products from tampering
Better and faster recall management
Regulatory compliance with traceability regulations in China and Russia
Improved production and distribution data management and analytics
Supply chain optimisation
Increased consumer confidence and loyalty
2 www.foodsafetynews.com/2020/01/baby-food-recalled-in-uk-due-to-tampering-fears/
Serialisation of Baby Food for Regulation Compliant Exports
Food manufacturers that produce baby food for export must comply with country-specific food safety regulations. From a global perspective, serialisation of baby food is a high-priority project for countries such as China and Russia. Both countries are developing adequate national Track and Trace regulations to improve traceability of different product groups, including baby food. Potential baby food traceability regulations in both countries are likely to require serialisation of each product.
Russia has already introduced product traceability for a vast number of consumer products. Serialisation and aggregation of dairy foodstuffs has been obligatory since June 1, 2020. Since some baby foods include dairy ingredients, it's highly probable that they will also fall under the traceability regulations starting on that date.
Would you like to know more about baby food traceability requirements for exported products?
Advantages of TQS Solutions for Serialisation of Baby Food
A reliable baby food traceability system consists of efficient machine solutions and an IT system that work seamlessly together. Wipotec provides manufacturers with high-performance serialisation and aggregation equipment that features several unique functionalities.
Serialisation and aggregation at high production speeds.
High-speed production of baby food requires serialisation and aggregation equipment that is able to keep up with the line performance and output. TQS solutions are designed to work at high production speeds so that you won't have to choose between traceability and manufacturing efficiency.
Extensive experience in Track and Trace project implementation.
Our profound expertise from the successful implementation of more than 3.000 Track and Trace projects worldwide makes us a reliable solution provider for food manufacturing companies.
International expertise with a strong footprint in China and Russia.
Our solutions are widely implemented in the Chinese and Russian markets to serialise various product groups in full compliance with local regulations.
Compatibility with over 80 site-level IT systems. Open communication interfaces of TQS solutions enable you to select any site-level IT system that satisfies your data management requirements.
The modular design enables flexibility and future-proof adaptability.
Scalable machine design supports demand-oriented integration of different modules, such as a checkweigher for inline weight control or a labeller for tamper-evident sealing.

Space-saving integration of OEM components.
TQS OEM solutions can be integrated into third-party machines to fully automate the serialisation and aggregation process and save space on the production floor.

Unique features enable quick and effective operation.
TQS serialisation and aggregation solutions include valuable features that help to maintain an effective and fast serialisation process.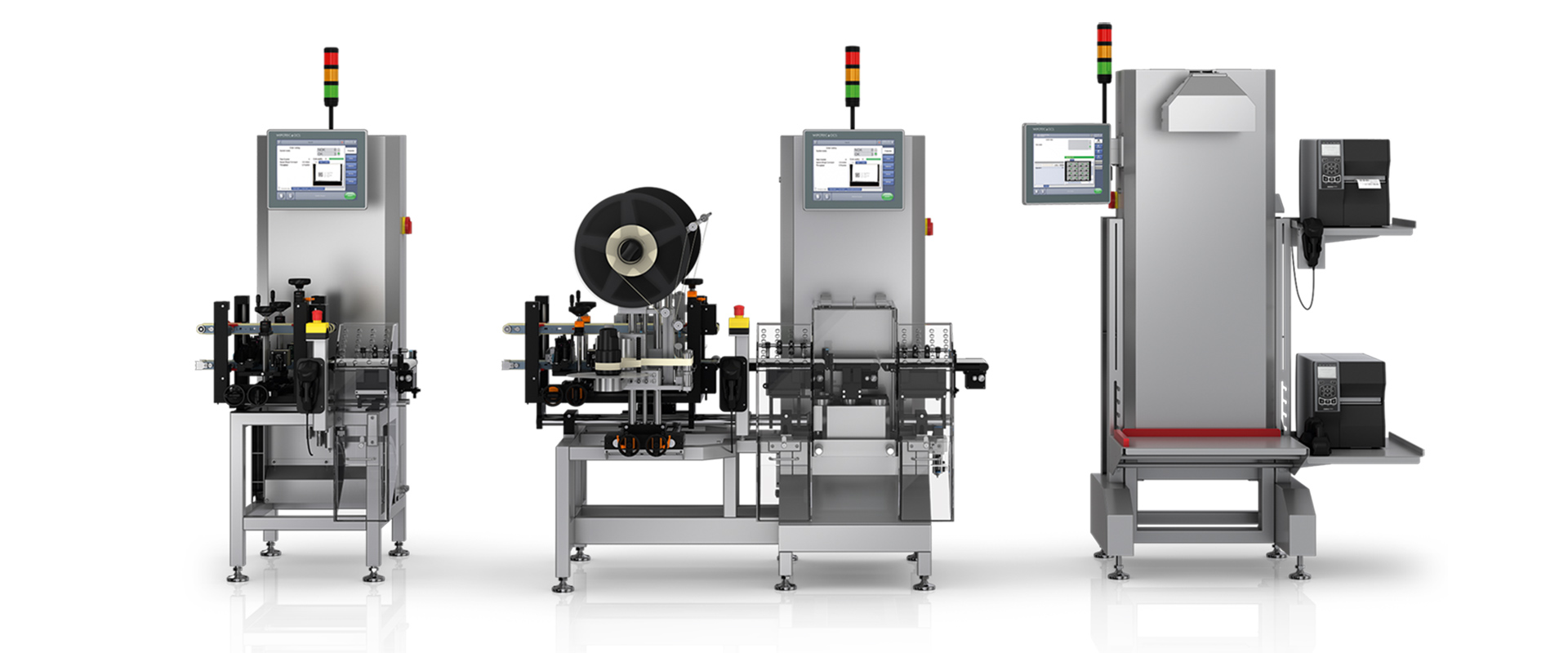 White Paper: How Serialisation Transforms the Baby Food Industry
Large market demand and the relatively high value of baby food products put them at very high risk of food fraud. Download the white paper to find out how baby food manufacturers can protect their products through the implementation of Track and Trace technology. The White Paper will also inform you about multiple benefits of baby food traceability beyond supply chain optimisation.

Product Inspection of Baby Food Enhances Quality Assurance
Manufacturing a safe, high-quality product is the top priority for baby nutrition companies. Pouches, jars, containers and bags – the variety of baby food packaging materials is vast. However, there is one thing all these different packaging types have in common – they must contain nothing less than the pure food product. Even though the production of baby food and infant formula is a very complex and regulated process, incidents and product recalls still happen.
Some of the most frequent reasons for food recalls include:
Product contamination through foreign bodies
Foreign bodies such as glass fragments, metal particles, stones, bone and plastic pieces can lead to baby food contamination during production. The contamination sources are very varied and are often process-specific. For example, glass fragments are more likely to be found in products packaged in glass containers, such as jars or bottles, stones may appear in grains and bones could be found in meat puree.
Product underfill.
Anything can happen in the production process – a product dispenser gets clogged, and the juice pouch isn't filled properly. Whereas an overfill results in an economic disadvantage on the part of the manufacturer, a product underfill can lead to fines, lawsuits and loss of consumer trust. Consumers and legislators expect volumes and product weight to match those indicated on the label.
Incomplete product.
When a product or some component is missing in a package, consumers aren't pleased. A typical example is a missing measuring spoon in baby formula, a cap on a pouch or a lid on a food jar.

Product tampering concerns.
Supply chain loopholes give food forgers a chance for fraudulent activities. These can take many forms, but once a suspicion arises, manufacturers have to recall their products, like in the above-mentioned case that happened in the UK at the beginning of 2020 3.
3 www.foodsafetynews.com/2020/01/baby-food-recalled-in-uk-due-to-tampering-fears/
Avoiding Product Recalls with Baby Food X-ray Inspection Technology
Product recalls are damaging to any organisation, as they involve financial losses, extra resources and lead to negative publicity. The economic impact of a product recall on a company is enormous. It causes not only direct costs related to refunding, reverse logistics, product destruction and additional labour, but also indirect ones concerned with the damage to brand identity and loss of consumer trust.
However, it is possible to avoid costly product recalls by improving product quality control through baby food inspection that detects product contamination before it's too late.
Baby Food Inspection Systems Improve Product Safety
X-ray inspection systems from Wipotec can eliminate a broad range of food safety and product quality issues through:
Foreign body detection
Fill level control
Identification of missing or damaged products or components
Ensuring proper sealing of canned food
Glass detection in glass jars or bottles
Weight, mass and volume check
X-ray Baby Food Inspection Solutions for Each Stage of the Production Process
To achieve the best possible product inspection results, it is necessary to answer three questions before selecting a specific baby food X-ray inspection solution:
Which type of product should be checked?
What are the inspection requirements (e.g. metal detection, weight control, foreign bodies, completeness check)?
At which stage of the production process should it be integrated?

Need help finding a suitable inspection system? Have a look at our product finder or let us advise you.
Early-Stage Baby Food X-ray Inspection of Bulk Ingredients
The longer it takes to spot and eliminate baby food contamination, the more costs and risk of downstream equipment damage arise. Therefore, X-ray inspection technology for bulk products is mostly integrated at the beginning of the production line. Product inspection of baby food ingredients such as cereals, starch or sugar are inspected for foreign bodies like stones before processing or mixing the ingredients.

The application of the SC-B X-ray inspection system at the beginning of the production line mitigates the risk of foreign bodies damaging the production equipment or being split into multiple pieces and contaminating a large portion of the end product. Using an X-ray inspection system for bulk materials minimises the number of end products rejected due to contamination.

White Paper: Use of X-ray Inspection Technology for Baby Food Quality Assurance
Manufacture of baby food is subject to strict regulations and has to adhere to numerous quality standards. Despite intensive efforts, food companies encounter multiple challenges related to baby food contamination by different materials. The longer it takes to detect foreign bodies, the higher the risk of contaminating large product quantities as well as damaging downstream line equipment.
Knowing how to choose the right product inspection solution and where to integrate it in the process can have a significant impact on baby food quality assurance. Download the White Paper to find out how food X-ray inspection systems work and how to choose a suitable solution based on the product and packaging type you produce.
No More and No Less: Baby Food Checkweighing for Target Weight Control
Reducing Improper Filling and Product Weight Variation in the Food Industry
Achieving accurate product weight is one of the essential legal requirements for food manufacturers. Fill volumes or product weight must match those stated on the label. Product underfilling or overfilling can lead to litigation and consumer complaints or lower profit margins due to continuous product giveaway.
However, reducing fill variation and achieving the target weight consistently is made possible by integrating checkweighing systems into a food production line.

Minimizing Product Overfill: Return on Investment
To avoid the risk of product underfilling, some product manufacturers put up with slight content overfill even though it does not pay off in the long run. Consider a pack of infant formula product with a 500-gram nominal weight and retail price of $2.00 per 100 grams. The product is manufactured at a rate of 50,000 bags per week, 50 weeks per year. Consequently, the factory produces 2,500,000 bags per year. The savings generated by a simple 1 gram reduction in giveaway per bag can save 2,500 kg of product annually, or $50,000 in lost revenue per year. Since baby food is a relatively expensive product, installing a checkweigher for inline weight inspection will very soon return the investment.

Advantages of Inline Checkweighing in Baby Food Production
Speed and accuracy are two main factors to consider when choosing suitable checkweighing systems for baby food production lines.
Checkweighers from Wipotec operate based on EMFR principle to deliver highly precise weighing results at various throughput speeds. They reliably reject products with an incorrect weight and record individual values that can be used for production statistics. Additionally, the checkweighers can transfer weighing results to the upstream filler machines so that the filling volumes can be adjusted.
Commonly, different lines run a range of different products at varying speeds, so the requirements on checkweighers differ from line to line. The following cases provide an orientation on the broad range of solution options for baby food manufacturers based on specific application requirements.

Accurate checkweighing at moderate production speeds
If you are looking for highly precise inline weighing at moderate production speeds, then the compact EC-E checkweigher model will meet your expectations. The machine checks product weight at a throughput rate of up to 150 pieces per minute. Its excellent price-performance ratio makes this model an attractive choice with a reasonable TCO.

Perfect solution with exceptionally smooth product transport system
Equipped with a unique patented conveyor system, the HC-M checkweigher ensures enhanced transport stability for a smooth and safe drive of standing products. Various sorting options for quick rejection of faulty products are available based on the product and application requirements. The checkweigher can precisely determine the weight of up to 250 products per minute.

Wash-down model for the highest hygiene standard
The HC-M-WD checkweigher model features an innovative, hygienic wash-down design with IP69K protection class for all components. The solid stainless steel construction enables extreme robustness and resistance during high pressure, high-temperature cleaning. The machine is perfectly suitable for checkweighing of baby food ingredients and raw foods.

The need for speed: reliable checkweighing on high-performance lines
When it has to go quickly, the HC-A model sets a new benchmark in dynamic weighing by processing up to 600 products per minute. An impressive range of high-tech features, such as maintenance-free servo-drive, two sorting options (pusher or air blast), optional integration of multiple lanes, tool-free replacement of conveyors and belts and numerous statistics options fulfil the highest performance requirements.

Robust checkweigher models for humid production areas
Equipment installed in humid production environments requires special protection. VA series checkweighers are made of stainless steel and feature IP65 protection class, which allows for frequent cleaning cycles and complies with stringent hygiene requirements.
Checkweighing and baby food metal detection on the smallest footprint
Despite maximum precautions, metal contaminants cannot be fully excluded during the production process. The HC-M-MDi product inspection system is an efficient combination of a checkweigher and a metal detector that allows only metal-free products with the correct weight. The strong magnetic field of the metal detector removes both ferrous and non-ferrous materials. Integrating the HC-M-MDi at the end of the production line ensures that the final product that lands on the consumer's table is metal-free and of the correct weight.

White Paper: Estimating the ROI of Industry Checkweighers for Baby Food Manufacturers
Avoid product overfill, generate production data and avoid loss of revenue due to excessive product giveaway. This White Paper will help you to calculate the return on investment for your checkweigher.
See how continuous product overfill reduces margins and results in lost profits.
Learn how to choose a suitable checkweigher for baby food production lines, depending on your product requirements and manufacturing conditions.